FC-RUSTICO 1260 - antiquing machine
machine for the antiquing and bushhammering of concrete stones
The FC RUSTICO is a machine for the inline-production of antiqued concrete paves with a similar result like the conventional trumble drum machines.
With this machine, the stones/slabs can be "aged" - meaning the edges ae broken off - and bushhammered as well.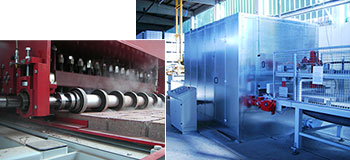 Stock
With extra tools the machine can be used as a powerful stocking machine. The change of the working tools can be done very fast by a quicklock system.




The process breakes the surface and an old fashioned rustical stone is created.



The "art" of ageing
The machine is equipped with two hammering devices (four hammer rows each) and special antiquing tools; hammering devices work counter - oscillating.
The stone layers are taken off the tie plate, transportes through the machine (with no space between them) and the seperates again into layers which means the layer remains and can be integrates again into an exciting palletizing unit.
The new construction of the machine enables the customer only to break off the edges of the concrete slabs, while the surface remains untreated and smooth.
Depending on the hardness of the stones and the desired break of the edges, the grade of antiquing can be effectes by various adjustments.
To get a perfect result, the edges of the stones are rounded by a third aggregate, the FC edge trimming device in the end.
Various stone sizes as well as layers with mixed stone sizes can be treated with this machine without big adaptionsreadjustments.
A powerfull dust vaccum system and a noise canceling dome are available to complete the system.