Stacking with drawing-sheet
Device for stacking of the concrete slabs and tiles and for the automatic destacking onto pallets.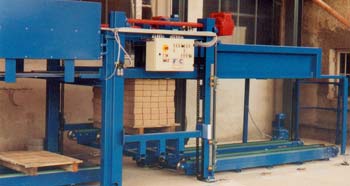 The system uses the whole speed of your devices with a drawing-sheet-technique.
---
The advatages:
less staff
enhancement of the speed
no idle motion of the plant
robust construction, field proven
flexible in speed and layer thickness
the system
The stone- or slab layers are separated and pushed on a sheet. Under the sheet is a palette for carrying the layers. The layer on the sheet is holded by a push bar and the sheet is pulled out so that the layer fall down on the adjusted palette.
According to the thickness of the layer the palette drives down for carrying the next layer. The sheet moves in for its default position to grab the next layer of stones. After filling the palette it rolles out of the system and a new palette is inserted automatically.
On customer requirement the system can be equipped with a palette magazine
---
Options:
feeders for strings, paper and foils
strapping devices
palletizing units
transport conveyors for full pallets