Sawing machines
For the sawing of concrete elements, we offer a range of solutions meeting all your requirements.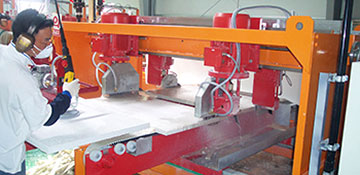 Our sawing machines are either produced for working in running programs or equipped with a sawing table to put the workpieces on - depending on the requirements in your factory.
We are specialized in
half size sawing machines for halving and cutting of tiles:
sawing machines for concrete slabs
sawing machines for centre cuts
split sawing machine for central cuts
bridge sawing machine
head cutting saw for double-sided length cuts
multiblade saws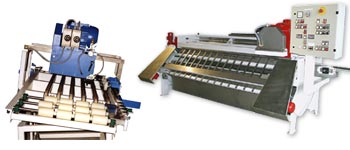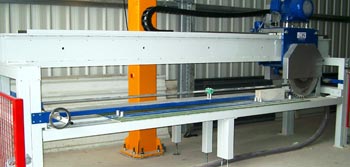 multible edge sawing
machine to cut off corners from slabs
our new developped cutting machine enables the economic production of slabs with 8, 7 , 6, or 5 corners.
The advantage for you:
no expencive forms for the hydraulic press are necessary
job-oriented production with slabs from stock
economic for small orders
no separate stockkeeping
slabs from 30/30 to 50/50 can be processed
abitrary measurements of the cut, thereby countless variations
machine works in throug-feed method
integration in an existing line or stand alone